Go back
AGL 64 High Speed Paperboard Encapsulation Laminator
Advanced Greig Laminators, Inc (AGL) Deforest, WI – AGL's 64 inch high speed thermal encapsulation machine with an Accuweb guided unwind and product windup. This is a heavy duty laminator designed for the wide format high production facility. This machine features a 64 inch roll face silicone covered laminating nip rolls equipped with internal electric heat and controls for ambient to 320 degrees Fahrenheit. The product unwind and rewind assemblies feature safety chucks and automatic transducer tension control. The film unwind stations feature cantilevered loading and unloading shafts. Safety features include 36 inch light curtains prior to the nip, as well as emergency stop switches at all four corners of the machine. This machine features 0 – 50 fpm operating machine speeds.
In many laminating markets standard run-of-the-mill pressure sensitive/thermal mounting presses do not meet specific laminating requirements. AGL has answered this dilemma with an industrial laminating product line that can be customized and configured to specific customer requirements. AGL specializes in custom designed industrial laminators. We encourage customers to combine process requirements into custom machine configurations. By utilizing standard subassembly components such as unwind stations, rewind station, nip roller assemblies and pull rollers in numerous widths (14", 36", 40", 64", 80", 110") AGL can create a custom laminator in a cost-effective fashion.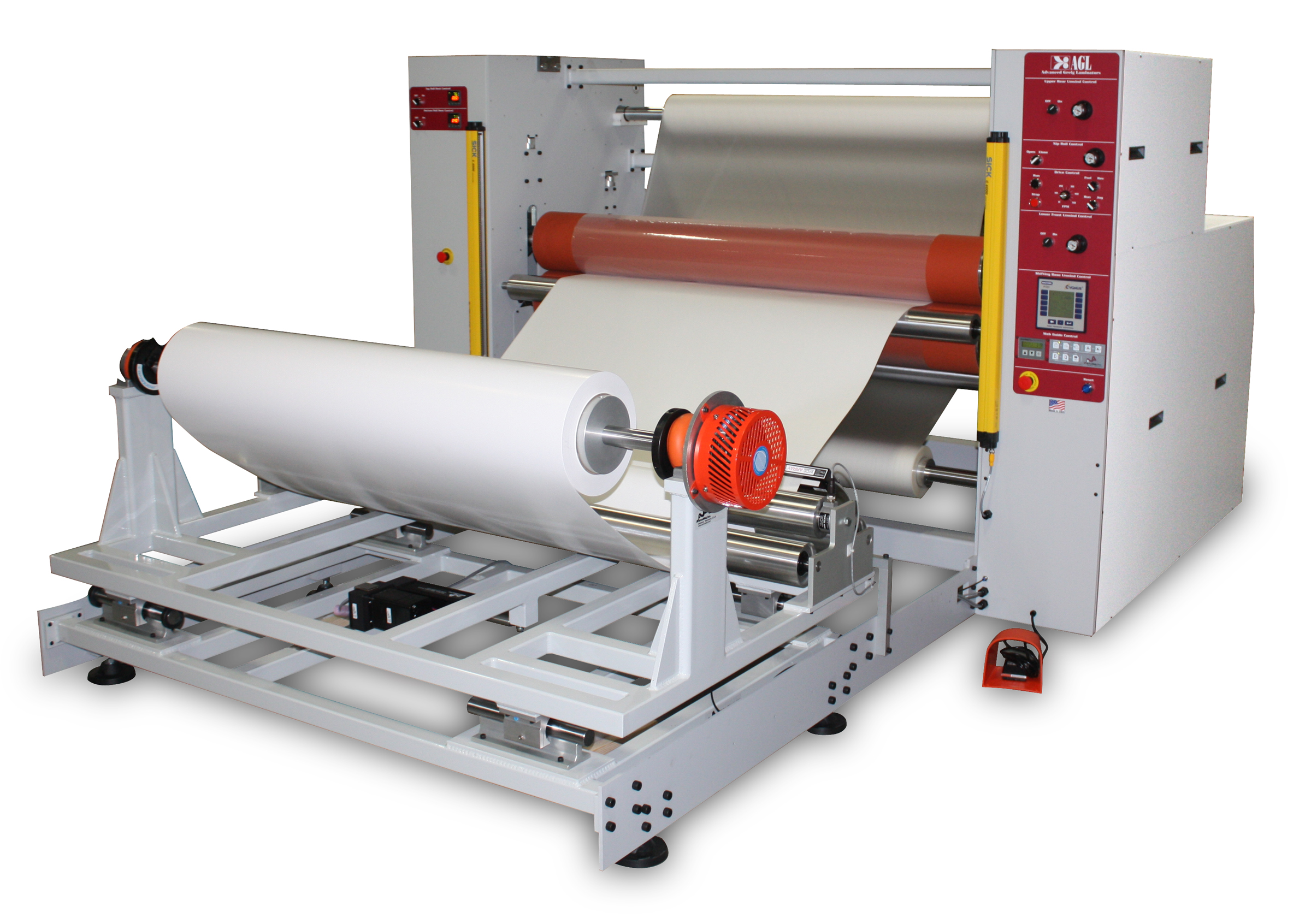 High performance laminators from a name you have trusted for over 65 years. Equipment design for the Wide Format Digital Imaging Market, or for Custom Industrial Applications, we have a solution for you. For more information contact AGL at 1-800-276-2664.