Compadre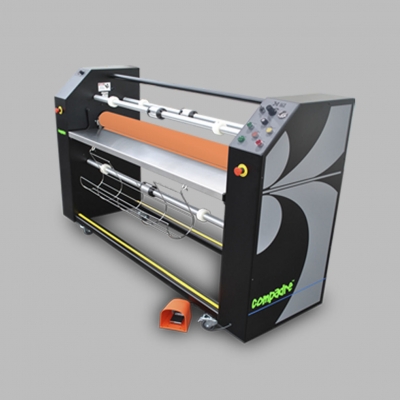 About the Compadre
The Compadre is an entry level laminator designed to satisfy the small to medium sign shop market. This laminator incorporates AGL's original nip roll design and configuration with a maximum working width of 64 inches. The Compadre allows for more reliable print laminating and mounting at faster throughput speeds up to 20 fpm. It features a six inch nominaldiameter steel non-crowned silicone covered nip roll assembly with gap adjustment from -1/16 to ¾" inch. AGL's rollers are straight and concentrically ground to yielding less print distortion and wrinkling. The heated top nip roll features preset heat assist for warming up pressure sensitive over-laminates resulting in a perfectly smooth output. The rollers are made of high release silicone for easy cleaning. The Compadre comes standard with two unwind supply shafts, one finished product windup shaft and one release liner windup.
Features
6" nominal diameter steel roller covered with a high release non-crowned silicone covering
Film tension system provides repeatable film tension settings which will give the operators repeatable process control
Rotary dial shim stops for preset nip roll gap adjustment - adjustable from -1/16 to 3/4 inch
Top heated roller (100 degree preset) - accelerates adhesion and reduces or eliminates silvering
Pneumatically controlled main roller for repeatability and safety
Swing up feed table
Financing
AGL Inc now offers finance options through Providence Capital Funding for select models from our line of digital imaging laminators.
AGL Compadre - Total $17,500.00
$342.41 x 60 Months
$415.01 x 48 Months
$536.36 x 36 Months
*NOTE: Estimated monthly finance options based upon standard model price.
First & last payment upfront & final credit approval required.
Interested in this product? Contact us today to get a quote!